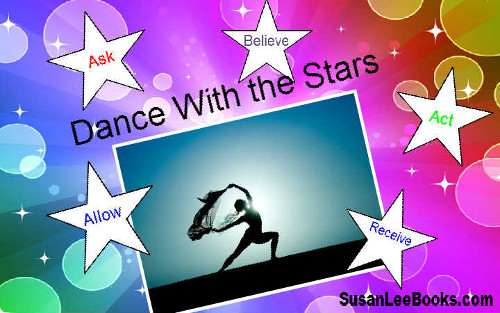 Guest Blog Post by: Susan Lee, Author

Dancing With the Stars Season 16 is half complete and people are already wondering who will go the distance and win the coveted Mirrror Ball Trophy. Whether the champion is Alli, Jacoby, Zendaya, Kelli, or one of the others, we are down to real contenders who are in it to win it.

The show is filled with excitement and entertainment every week, beautiful costumes and sets, and great dancing, of course. But, despite all the glitz and glamour, the road to a Mirror Ball trophy on Dancing With the Stars is a long one for the wanna-be Champions and their pro partners.

What makes a Dancing With the Stars Champion? After loyally watching all 16 seasons, it is clear to me that most of the winners share a number of characteristics and qualities with the law of attraction principles. Here are 18 traits of a Dancing With the Stars Champion, and how they fit in with the principles of the law of attraction:

Principle #1: Ask

The first principle is critical in order to get a person up each day and working toward a goal. You have to know what you want and ask for it. Those celebrities that make it to the Dancing with the Stars finals know from day one the importance of asking for what they want.

Definite Major Purpose – These winners don't just go on the show hoping to have a good time or to learn a little more about dancing. The stars that make it to the final weeks are clear that the goal is to go all the way to the finals–and win! They are definite in their objective, and the result is success.

Solid Reason Why They Want to Win – Those Dancing With the Stars contestants that survive the grueling practice schedule week after week have a strong will to win. It may be to overcome past demons, to rekindle a faltering career or even just to prove that they can, but regardless of what it is, these successful stars are crystal clear as to why they want it.

They Have a Commitment to Win – Zig Ziglar said that "a person who has a commitment toward a goal looks for a solution when everything hits the wall," (which it almost always does on Dancing With the Stars). If there is no commitment, they just look for a way to get out.

They Set Smaller Goals – In addition to their ultimate goal to win the Mirror Ball trophy, successful Dancing With the Stars Challengers set smaller goals for improvement each week along the way. They know that no one reaches the finish line only by wishing, and hoping, but if you have short term objectives and reach them one at a time, you will go far on the show.
Principle #2: Believe

Asking for what you want is one thing, but harder still is reaching a goal if you have negative resistance because you don't believe you can achieve it. The next few traits of the dancing celebs demonstrate their total belief and confidence in their direction.

Confidence – Dancing With the Stars winners have confidence that they have what it takes to go the distance. While dancing talent has something to do with it, the real winners have an inner spirit that allows them to step out of their comfort zone and try new and sometimes frightening things. From that positive mindset, belief is born.

Visualize Success – Successful Dancing With the Stars contestants visualize their success. As clear as day, they can see themselves having successful practice sessions each day, completing their dance routines flawlessly each week and happily hoisting the Mirror Ball trophy up in the air at the end of the final broadcast.

Use Their Words to Create Their Belief – Rarely do you see a contestant who says things like "I hope we make it," or "I'm just happy to have made it this far," competing in the final weeks of the competition. These kind of words allow an escape. Successful Dancing With the Stars Challengers always speak affirmatively, such as "next week I want to work on…" or "I can't wait to get working on my routine for next week."

Capitalize On Emotion – Successful candidates are not afraid to tune into and use their emotions. Because emotions are so powerful, they are excellent catalysts to anchor successful visualization. So first they see what they want to achieve, then they feel it – through humor, passion, playfulness, and even anxiety. The result–it becomes real to them, and they believe it even more strongly.
Principle #3: Act

After you are clear in what you want, and believe in your heart you can do it, it's time to roll up your sleeves and start getting the job done.

Practice, Practice, Practice – It's no wonder that professional athletes so often make it to the final weeks of Dancing with the Stars, because nothing takes the place of good old fashioned practice. In the feature clips, you rarely see the top contenders trying to fit in other life obligations. When it's time to practice, they roll up their leg warmers and get busy.

Make the Time – The plain and simple truth is that success takes time. The most successful make sure there is adequate time to get the job done.

Active Participation is critical – It is not enough just to show up and do what you are told. The most successful contestants are fully engaged and participate in the planning and choreography of each dance.
Principle #4: Allow

Regardless of how much you "ask," "believe," and "act,", the law of attraction can be defeated if you aren't able to allow what you desire into your life. Many things can hold us back from allowing, but we can learn a lot from the successful Dancing With the Stars champions.

Persistence is critical, and you will see the winning couples working certain difficult dance moves over and over again, until they become second nature to the star. Everything is odd and difficult at first, but if you are able to persist through the discomfort, you can achieve your goals.

Patience – At the same time, the most successful stars are able to be patient with themselves, and with their coaches. Working toward any intense goal will create high emotions and can easily lead to impatience and frustration. The highest achievers have the ability to temper those strong feelings with good humor and understanding.

Don't Believe the Stories of Why You "Can't" – Dancing With the Stars Champions know that doubt and worry are inevitable, but not in charge. There are bound to be moments of self doubt and fear when striving for any big goal. But the successful contestants are able to work through those fears quickly and press on to the end.

Use Criticism to Your Advantage – Everyone has two options when faced with criticism–to complain and whine over how unfair it is, or to glean the truths out of the criticism and use those truths to improve your performance. Most of the Dancing With the Stars contestants that choose the former are eliminated long before finals week. The champions take the second choice.

Be Confident in Your Resources – The most competitive contestants are sure of their resources, particularly the expertise of their professional coach. You rarely see the highest competitors arguing with their coach or questioning a suggested move. This allows the pro more creative leverage to showcase the star's unique qualities.
Principle #5: Receive

The end goal, of course, is to reach your objective. So the final principle, receive, may seem a bit anti-climatic. After all, if you have believed enough, you have already visualized the moment many times in your mind. What makes the end worth the effort lies in the way you receive.

Be Thankful – Those contestants who make it the farthest demonstrate extreme thankfulness. They are grateful for the support they receive from their family, fellow contestants, fans, and their professional coach. They are grateful for the physical benefits the experience gave them and the lessons they learned along the way. Never do you hear a contestant who made it far say anything but good things about their participation in the show.

Always Maintain a Positive Mental Attitude – Probably all the other characteristics described here can be summed up in the fact that Dancing With the Stars champions have a relentless Positive Mental Attitude. Negative vibrations are banished quickly and re-evaluated to find the positive lesson from the situation. In this way, the law of attraction is given a fertile field in which to work. That is the way Dancing With the Stars Champions are made!

More than just a fun show to watch, Dancing with the Stars can teach us some real lessons as to how we can achieve our dreams and goals. But, without the full resources of ABC TV and the Dancing With the Stars machine behind us, it can often seem daunting to follow those principles.

I have discovered that the more positive ways I can record and track my progress, the easier it becomes to stick with my goals over the long haul. More positive vibrations in my life over negative ones helps keep me on track and I used the tools created by RaisedVibrations.com to do it. Through RaisedVibrations.com, I am able to build and give voice to my dreams, set solid goals for achieving them and use a number of visualizing techniques, including their popular and fun V.I.B.E. Board.

While my dreams don't often include Ballroom Dancing on national TV, I can commit to the same principles used by Dancing With the Stars Champions. By doing that, I can shoot for the moon! And, as Les Brown has said, when I do that, I'm bound to "end up among the stars."

– – – – – – – – – –

Susan Lee is a wife, mother, business professional, and author of God's Law of Attraction. She has been an active member of RaisedVibration since November of 2012.
https://raisedvibration.com/wp-content/uploads/2013/04/dancing-with-the-stars.jpg
313
500
Vibe Team
http://raisedvibration.com/wp-content/uploads/2017/04/raised-vibration-logo-v2.png
Vibe Team
2013-04-26 08:09:10
2013-05-04 08:29:44
Dancing with the Stars Champions Secret to Success: VIBE High!