Last week, something horrible happened—the stuff of nightmares. 52-year-old Rosy Esparza was killed when she fell out of a roller coaster at Six Flags Over Texas.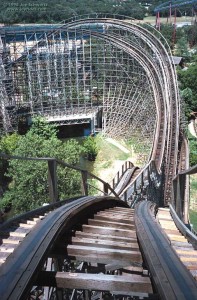 Nobody knows whether the locking bar that is supposed to hold riders in place failed, whether it wasn't closed correctly in the first place–apparently Esparza questioned one of the ride operators and was told that as long as she had heard it "click" into place that it was okay, but no one double-checked–or whether the ride itself is inherently unsafe. It was revamped recently to make for an even steeper, thrill-producing experience. It is, of course, now closed and under heavy inspection.
Certainly no one at Six Flags or at the company who manufactured the roller coaster held the intention of someone losing their life.
So what's the takeaway here? Is this particular roller coaster lethal? Is every roller coaster unsafe, even if just a little? Are all amusement park rides suspect?
Around the same time that Esparza died, a friend's daughter lost her life at the camp where she was a counselor when a tree unexpectedly fell over onto her, a 3-year-old boy sleeping outside was run over by a truck making a U-turn, and a Las Vegas Cirque de Soleil performer fell 90 feet to her death at the end of a performance.
These are all tragedies. But while there may be cautionary lessons to be drawn from them, they are not warning signs to the rest of us to stop living our lives.
To live is to risk. We take a chance every time we step out of our house, even when we get out of bed. In fact, we're not even "safe" in bed, considering the number of fatal heart attacks that happen during the small hours of the morning.
So what do we do? We take a deep breath. We grieve and honor the fallen. We keep going. And we don't let fear–a useful adviser and not one we should categorically ignore–take over and start driving our bus.
Ride on, friends. Ride on.
http://raisedvibration.com/wp-content/uploads/2017/04/raised-vibration-logo-v2.png
0
0
Vibe Team
http://raisedvibration.com/wp-content/uploads/2017/04/raised-vibration-logo-v2.png
Vibe Team
2013-07-24 13:41:47
2013-07-24 13:41:47
Fear of Falling